Sale!
Mini UV Ultra Violet 9 LED Best quality
Mini UV Ultra Violet 9 LED Torch 4.5v Glowing
Ideal for checking gemstones like opal, ruby, sapphire. Pet urine, scorpion detection, rodent control.
Mini UV Ultra Violet 9 LED Best quality
Great for gem hunting and locating scorpions
Ideal for checking gemstones like opal, ruby, sapphire. Pet urine, scorpion detection, rodent control.
This is an UV ultra violet LED flashlight with 9 LED bulbs. It's aluminum body makes it light weight and portable.
It also has a service life of up to 10,000 hours. It is perfect for camping, outdoors, around the house and many other uses.
The Listing picture features an actual LICE EGG on a strand of hair being made flourescent by our actual UV Flashlight
Perfect for:
Lice Egg or Nit Detection (Egg and Nits Flouresce for easy Finding)
Detecting Bed Bugs

Checking ultraviolet inks in currency and ID's
Check credit cards– Discover Cards have "NOVUS", MasterCard have "M C", and Visa has V or an eagle in UV ink.
Activation of fluorescent inks/dyes used as anti-counterfeiting measures
Checking hand stamps at clubs

Examining artwork and glasswork for hidden repairs
Scan a crime scene for foreign materials

Finding Scorpions in your yard, house or the Desert.
Curing UV Glue
Illuminates Fluorescent Minerals
Mini UV Ultra Violet best 9 LED Torch 4.5v
Specifications:
9 LEDs UV Light, low power consumption, ultra-bright, visible over a long distance
Require 3 x AAA Alkaline batteries (not included)

Switch type: Press on, press off from rear cap
Flashlight made of a strong and lightweight aluminum case
Light weight, compact and easy to carry

The water resistance design is for use on rainy days
Color: Black

Great for checking notes, credit cards, fluorescent inks (invisible inks), cracked glassware, or even crime scene.
Light bulb type: UV Light

Operating voltage: 4.5V
Number of LED: 9
Battery Type: 3 x AAA Alkaline batteries
Size: 3.3inch x 0.9inch
Weight: 1 ounce (not including batteries)
check out this great article about seeing minerals with the u.v light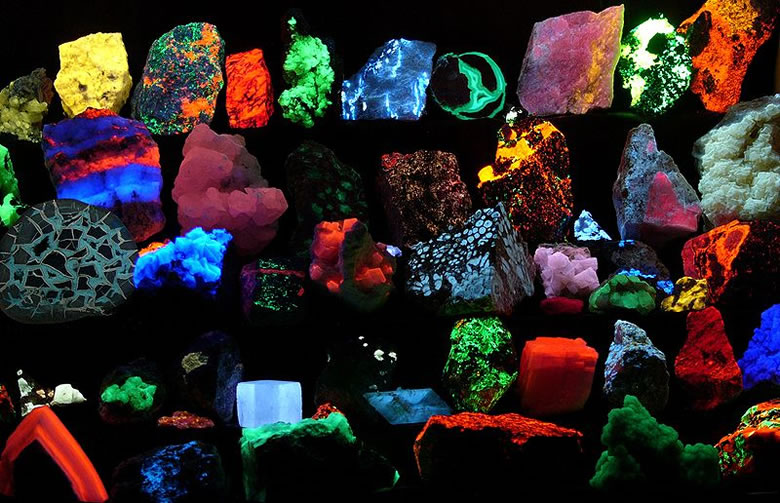 this site will help if you need more information about UV torches 
also have eye loupes you may like to see
The perfect light for all those times you need to see what's hidden! This UV flashlight is great for detecting bed bugs, lice eggs and nit detection as well as checking ultraviolet inks on currency and ID's.
Mini UV Ultra Violet best 9 LED Torch 4.5v
Illumination – of course the original purpose of lamps is to illuminate, with UV lamps offering energy efficient, bright light in many industries such as manufacturing, clean room production, quality inspection and many other applications which require a well-lit environment.
Lighted signs – lighted signs are required for many purposes like illuminating emergency exits in public places and for marketing and brand awareness purposes.  LightSources and our valued partner Voltarc provide fluorescent and neon lighting solutions with decades of experience in custom designed solutions.
Backlighting – UV lamps provide backlighting to the avionics and aerospace industry, providing reliable lighting in airplane cabins and cockpits.  LightSources and our valued partners offer experienced backlighting solutions with high-quality UV lamps designed for backlighting found in many demanding industries including the NASA space shuttle.
UV curing – used in many manufacturing applications, UV lamps for curing of inks, coatings and finishes provides a strengthened ou
ter coating.  Adhesives, varnishes and lacquers cured with UV lamps are more durable and last in demanding environments such as industrial, automotive, and aerospace applications.
Tanning – UV lamps are the core technology in tanning salons, offering clientele a way to enjoy a sun-kissed look from man-made technology.  LightSources offers many benefits to the tanning industry with the introduction of proprietary technology
designed strictly to improve tanning performance and safety.
Phototherapy – UV lamps provide many medical benefits for a host of conditions such as skin diseases including acne, jaundice, psoriasis, eczema and other conditions like seasonal depression.
Germicidal – UVC germicidal lamps are designed to replicate UVC radiation which is proven to have immense sterilization and disinfection properties. Today, germicidal UVC light applications are the first choice for many industries worldwide that require water, air or surface sterilization.